PLAYTEST 1 of Terminator 2030: War Against the Machines


The images below are images taken from and during the initial playtest of my homegrown Follow Me based miniatures system- Terminator 2030: War Against the Machines. It was played out on January 24, 2004, in Denver, Colorado, USA.
All figures, models, and terrain hand made by Trey D. Moody. I can be contacted at:
BobaFett0001@Earthlink.net
in Denver, Colorado in the USA! Rocky Mountain Knights 2004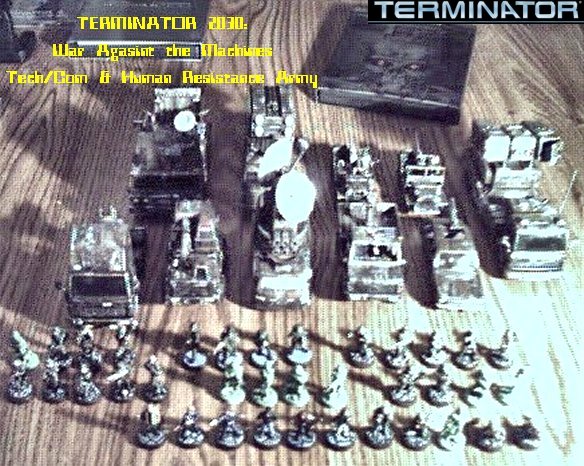 The valiant forces of the Worldwide Human Resistance, Tech/Com.
The dark forces of the year 2030's machine army, created by Skynet.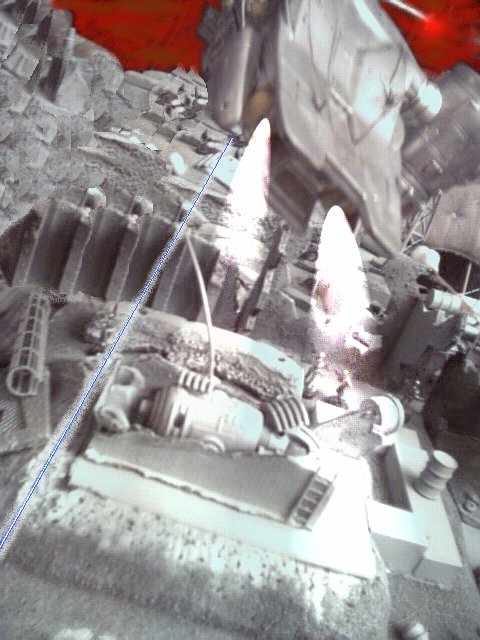 An H/K eye's view of Denver in a dark future.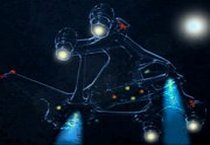 An Aerial Mk13 H/K Bomber, re-rendered concept art to be built.
The game board (lengthwise) and its mechanical monsters.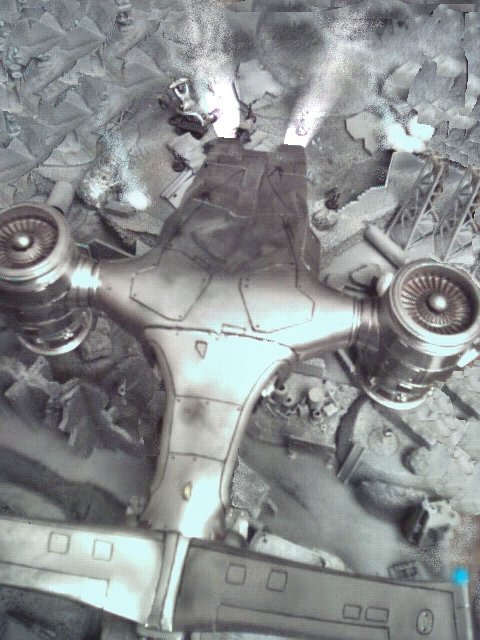 An armored Aerial Mk 8 H/K patrols the ruins of Judgement Day.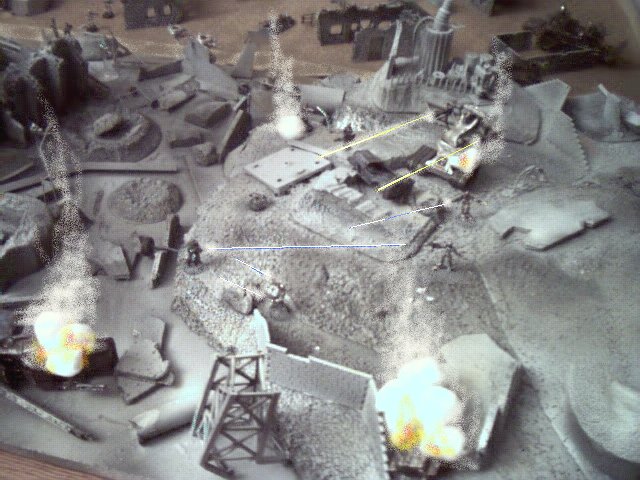 Tech/Com Rangers versus a T-1-7 Patrol H/K and Battlefield Endoskeletons!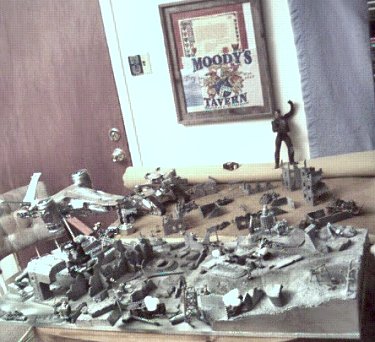 Two fields of battle for side-by-side relay style missions...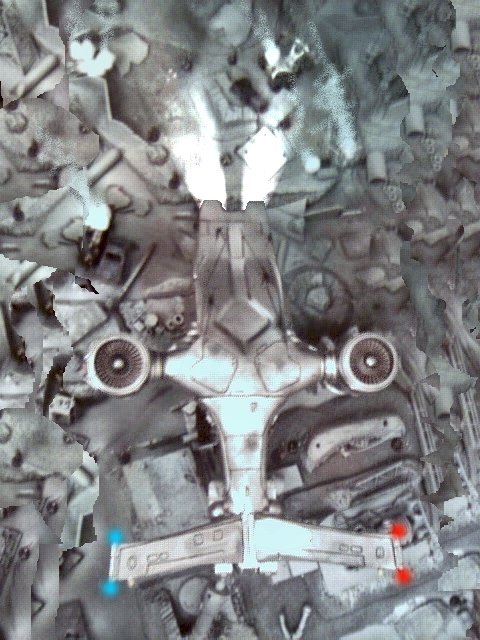 Top-down view of an Aerial Mk 8 H/K in search mode.
A massive Mk 10 Heavy H/K tank seeking targets.
Several T-600 Battlefield Endos were equipped with General Dynamics RBS-80 light plasma cannon.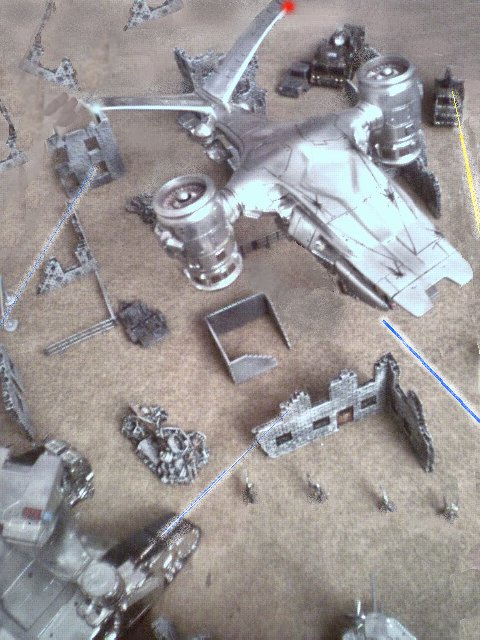 The Machine Army advances on all fronts in 2029.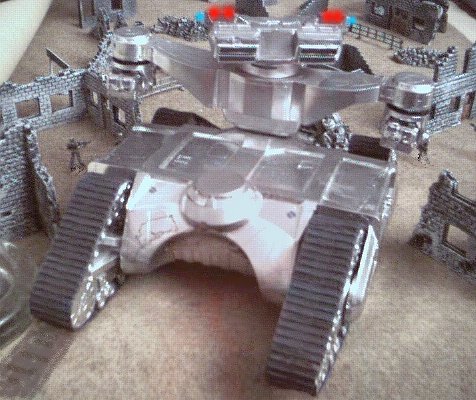 "Tanker H/K now moving away five-zero meters west of your position..."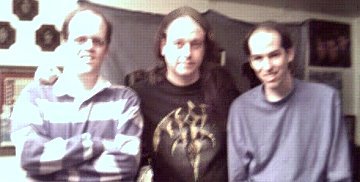 "We smashed those metal muthers into junk!" The Terminator Infiltrators responsible for this highly successful playtest are (left to right) Tom Arend, Trey Moody, and Jeff Arend of the Rocky Mountain Knights gaming group, first founded in 1992, Westminster, Colorado, USA.

Examples of some of the weapons used by both sides, circa 2029.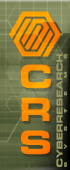 CLICK BELOW TO RETURN TO THE INITIAL HOME PAGE!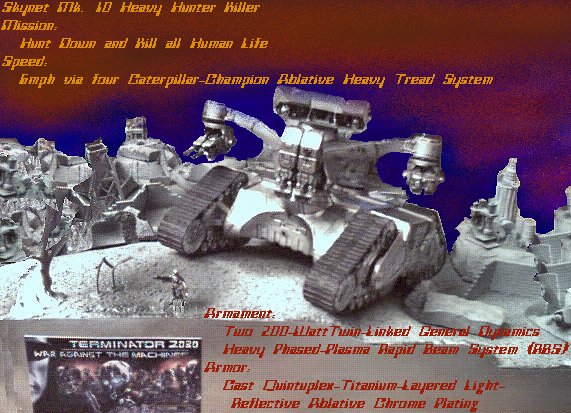 This Playtest page has been visited
times since October 30, 2004. No fate but what we make! - Gavdin

Last updated on